For the last 4 or 5 years we've had what seems to us to be a relatively unique opportunity with the team at Valli wines. I can't think of any other time when we get to taste Pinot Noir from 4 different sub-regions of Otago, all from the same vintage and all from the same winery.
With Burgundy Pinot Noir, it's very common to have people compare the full-bodied Gevrey-Chambertin wines from the Cote de Nuits, with lighter more floral styles further south in the Cote de Beaune, like Volnay. So why not have this in Central Otago?
People often generalise Central Otago Pinot Noir as being one particular style, when often this can be a massive simplification. Our Pinot Noir wines, just like the ones in Burgundy, can have that same degree of difference as Burgundy from one side of our region to the other.
So when Grant Taylor, formerly head winemaker at Gibbston Valley Winery, established his own personal Valli Vineyards in 1998, this was his main aim, to showcase regional differences through his wines. That's definitely part of the appeal of Valli, to be able to have Pinot Noirs that truly represent a 'sense of place,' a 'terroir' as they say it in France. This all comes down to the sub-regional characteristics; they each have different microclimates that produce different characters in the wines.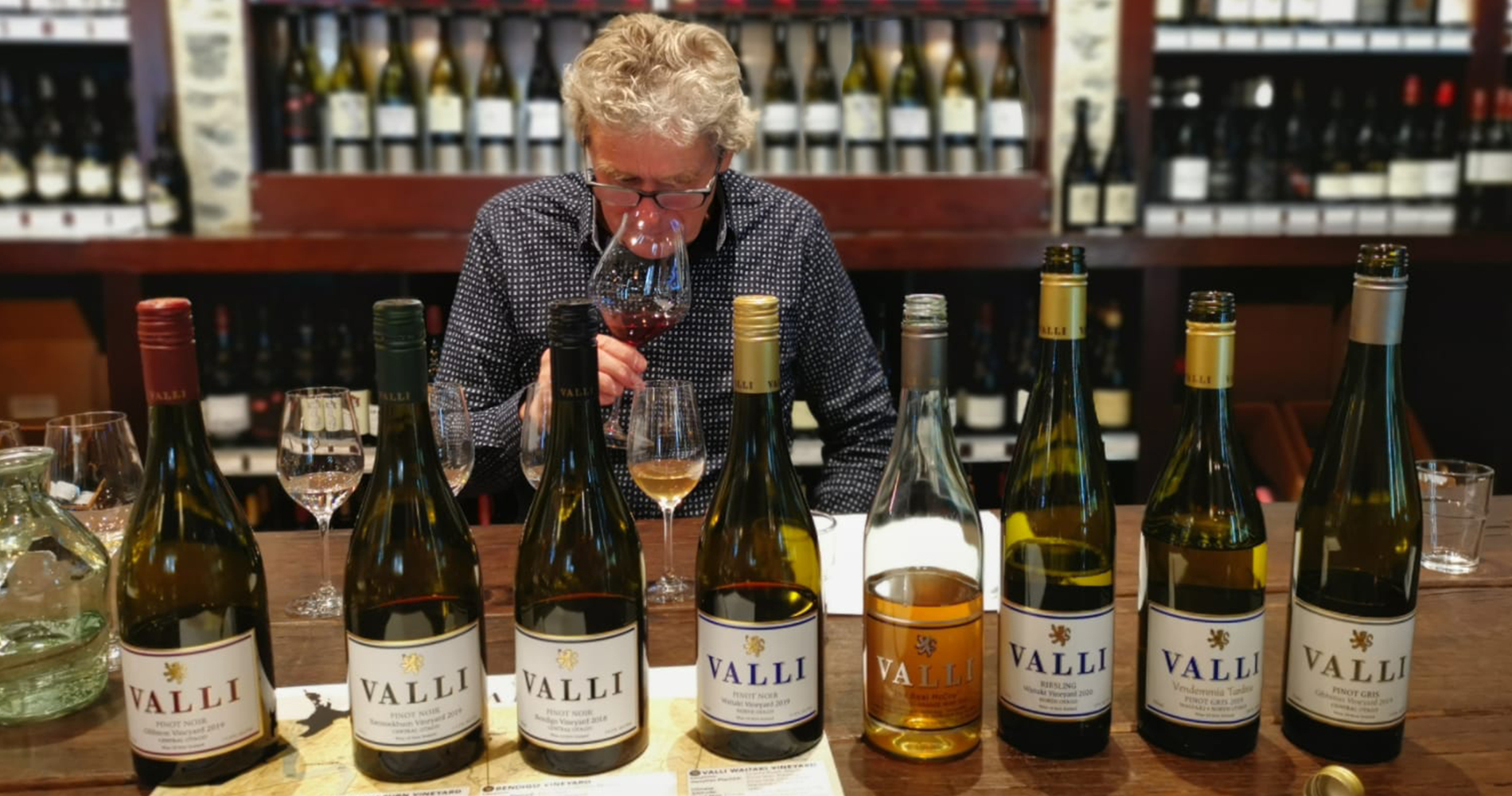 Affectionately known as the "Valli lama" by his many followers, local winemaker and proprietor Grant Taylor, and head of sales Hollis Heidelberg-Giddens, came into our Arrowtown store to take us through a tasting of their latest 2019 Pinot Noir releases. In addition, we were also treated to a tasting of the "Real McCoy" Pinot Gris orange (skin ferment), the dry barrel fermented "Vendemmia Tardiva" Pinot Gris, the Pinot Gris from Gibbston Valley and their Riesling from the Waitaki Valley - their entire range!
And so the annual release of the new vintage Pinot Noirs by Valli Vineyards has become one of those special tastings, it attracts all of our team to gather around our large table in the morning. No coffee is drunk beforehand, we want to keep our palates fresh. We wait patiently in anticipation, with a lineup of 4 tasting glasses in front of each of us, pen and paper at the ready. Quite a professional look for 10am in the morning!
We are a competitive bunch, so any chance to challenge each other is enjoyed. We taste all 4 Pinot Noir's blind which means that Hollis has concealed the bottles in special long socks and removed the top foil (each sub-region Pinot has its own coloured foil). The wines are poured out into our 4 glasses, in a sequence that's only known to Hollis. The challenge for us is to identify which sub-region each wine comes from; Gibbston, Waitaki, Bannockburn and Bendigo. 1, 2, 3 4. Easy, right?
As well as being able to distinguish aromas, flavours and texture when tasting, blind tasting always makes for a mental challenge. It relies a lot on being confident and sticking to your guns and it can easily stump the most knowledgeable of wine gurus, even Masters of Wine from time to time. So stay calm, focused and think about the wines methodically.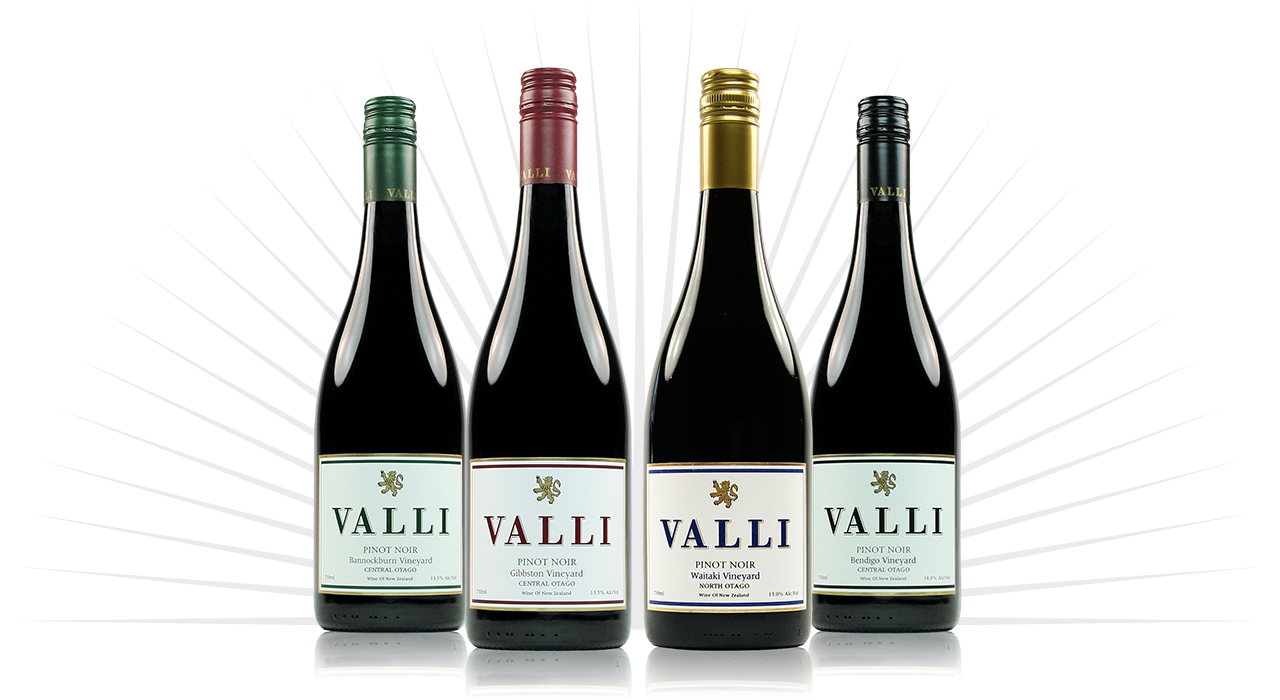 As it typically the case, the 2019 Valli Bendigo Pinot Noir stands out first, Bendigo is the hottest sub-region of Central Otago, so it produces the fullest bodied style, with the highest alcohol, and the darker fruit characters, blackberry and dark plum, along with the firm tannins differentiate this wine from the others. This is a Pinot Noir that is well suited to many Australian palates that are use to heavier intense Shiraz wines.
The 2019 Valli Bannockburn Pinot Noir is a little bit lighter in style, but still the emphasis is on the darker end of the fruit spectrum, the wines have smoother, softer tannins than the Bendigo wine.
Gibbston and Waitaki are the two cooler sub-regions, with Gibbston showcasing its classic intense cherry and floral aromatics, with delicately soft tannins, and Waitaki offering red fruit aromatics as well, but with a slightly more rustic, mineral, spicy edge, due to the heavy limestone deposits found in the soil there.
How did we get on? Most of us actually scored full marks with a few of us confusing the Gibbston with the Waitaki. This confusion was cleared up once we tasted the wine again; we'll try not to make the same mistake next year!
Our picks? Make no mistake, these are all top quality wines but we all have our favourite wines and for us it was a pretty even split between the Gibbston and Waitaki Pinot Noirs. The 2019 Valli Gibbston Pinot Noir won the trophy for "Best NZ Red Wine" at the International Wine Challenge in London and for those of us who found the 2019 Valli Waitaki Pinot Noir just so delicious, the question put to Grant was, why was this not entered? Simple answer, quantities - there's just simply not enough available to satisfy the demand. Hence it's slightly high price point, despite which, it will be the first to sell out!
For those who enjoy the development of Pinot Noir that comes from time in the cellar, all these wines can benefit from ageing, for at least 10 years if not 15. Sometimes it can be difficult to predict exactly, but judging how they taste now, we can say they all have many fine years ahead.
If you're the impatient type and you don't fancy waiting a decade, we are fortunate to be regularly allocated library release wines – the most recent being the 2012 "Out of the Shadows" Valli Waitaki Pinot Noir. It's really opened up beautifully, with an integrated balance of flavours and acidity, and some nice aged dried fruit and cinnamon spice. Available now (August 2021) but there's only a few bottles left, so pick it up quickly!